Mini World: Block Art 0.39.6 is an open world-building game with cute graphics and attractive free-to-explore gameplay. If you want to find something new in the sandbox game genre like Minecraft, then don't be afraid to try Mini World: Block Art.
Download Mini World: Block Art – free 3D sandbox game to start the adventure, discovering interesting with friends. The game has no levels or any restrictions. Players are free to create as they like. Easy multi-player settings let you connect your computer and phone anytime, anywhere. In this game, you can build a house, an apartment, a castle, even a city. You can also explore the underworld and embark on the challenge of the Black Dragon with your best friends.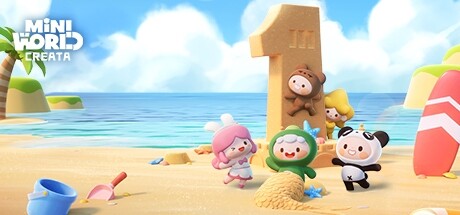 The main feature of Mini World: Block Art
Giant sandbox world
Unique game by the unique engine and the lovely character design
Single-player or multiplayer
Upload or download works at Gallery, admire the MOD maps, games, beautiful works of others.
Multi-game modes: Survival, Creativity or mini-games of others anytime, anywhere
Flexible game customization
Survival
In survival mode, players need to collect resources, build shelter, tools and fight for survival. After having the resources, go explore the wildlife with your friends. Explore the vast cave, raise pandas in the bamboo forest or the black dragon war in the underworld. This easy-to-play mode is a great way to learn game mechanics and immerse yourself in the vast open world of adventure.
Creation
Unlimited creativity. In this mode, players are provided most resources from the beginning to build anything you want. You can create a giant city, a glittering mountain resort full of bamboo, a giant castle in the air, or experience the fun of farming with a bunch of interesting fantasy creatures.
Multi-player
Connect to the server and play some fun mini-games developed by the community. Play parkour, puzzle, FPS or strategy game. Play with or against friends.
Community
Players can interact with other members. Download a map or share your own artwork for the world.